Who is Hello Kitty?
Hello Kitty first appeared on this coin purse in 1975. ©SANRIO
Who is only five apples high and has no mouth — yet is one of the country's biggest cultural ambassadors? None other than the reigning feline queen of kawaii (cute) herself, Hello Kitty.
With the creators of Hello Kitty celebrating the iconic cat's 40th anniversary on 1st Nov. 2014, it seems an appropriate time to examine the evolution of a feline who started out life known only as "the white kitten with no name" ("namae no nai shiroi koneko") and has since gone on to establish an international following that is as red-hot as the bow on her left ear.
Although the country's pop culture is garnering interest worldwide through the increasing popularity of manga and cosplay, Hello Kitty is one icon that trumps all in terms of visibility.
Loved by a long list of celebrities such as Lady Gaga, Avril Lavigne (who has a single named "Hello Kitty") and Lisa Loeb (who has an entire album called "Hello Lisa"), her fan base borders on the cultish.
A number of couples tie the knot in ceremonies held at Puroland, Sanrio's Tokyo theme park, without fail every year. In January 2000, meanwhile, seven people were injured in Singapore as crowds jostled to procure a Hello Kitty promotional toy at a McDonald's outlet.
Her recognition is such that Hello Kitty was appointed the children's ambassador for UNICEF in the United States in 1983 and in Japan 10 years later.
In May 2008, Japan appointed the lovable feline its ambassador of tourism in China and Hong Kong, a move that was criticized by some in mainstream media for having little substance given the troubled state of relations between Beijing and Tokyo at the time.
Hello Kitty was first developed by Sanrio in 1974, a company that creates products focusing on pop culture.
Looking to add cute characters to its merchandise in an attempt to increase sales, Sanrio conducted a survey and found that dogs, cats and bears (in no particular order) were the most popular.
By the late '80s, Hello Kitty had become increasingly popular with children in kindergartens in Japan. While some of the original fans remained loyal through high school, the younger fan base represented a significant proportion of the children's consumer market.
This perspective changed around 1996, as high school students increasingly purchased Hello Kitty items. In the mid-'90s, Sanrio had shifted tack and started to manufacture goods that were specifically aimed at adults (cellphone charms, keyrings, etc.). These caught on and it wasn't long before salarymen could even be seen carrying mobile phones with cute Hello Kitty accessories dangling from them.
Meanwhile, adult fans in Asia started to show an interest in Sanrio's regional targeted marketing strategy as well. Since the early 2000s, the number of adult fans worldwide has increased exponentially now that Hello Kitty is a household name in the West.
"Hello Kitty has become a beloved character and brand that connects with people of all ages (since its introduction to the U.S. in 1976)," says Dave Marchi, Sanrio's director of brand management and marketing, even going so far as to suggest that Hello Kitty serves as a "bridge between U.S. and Japanese culture."
Now, devotees in European countries and North America now hold the highest ratio of Hello Kitty fans worldwide.
Hello Kitty was introduced to Europe more than 30 years ago. The recognition has gradually risen and Sanrio Europe have hardly spent anything on television series or movie promotion costs.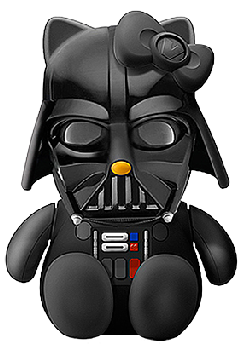 Darth Vader Hello Kitty.
©JOSEPH SENIOR 2012
Kawaii culture is becoming more and more part of people's lives globally. It's because of a simple aesthetic: It's extremely expressive, but also because it brings a positive, genuine feeling into it. Kawaii seems to touch the romantic core that's within us and connects with the inner child most of us keep alive inside.
Hello Kitty is that perfect combination of simple, adorable and perfectly cute, with universal design. Independently from this, there's an extremely intelligent, passionate and innovative company behind her that works to keep Kitty-chan walking parallel with the present, while watching the future. Sanrio understands that kawaii can be accepted and loved not just in Japan but by the entire world."
Sanrio Europe, however, does not attribute the success of Hello Kitty to a broader interest in Japanese pop culture in the West. Many customers don't even know that Hello Kitty was conceived in Japan. It is now a universal design and its charm that has made Hello Kitty one of the few globally popular characters.
Hello Kitty Con 2104 attracted a sellout crowd, with fans dressed to the nines in the popular feline's attire.
More than 50,000 Sanrio-branded items are sold in over 70 countries and territories worldwide, and the company's goods are sold in more than 15,000 retail locations in the United States. However, Hello Kitty is by far the most recognized of all their characters.
Various experts around the world have outlined a number of reasons for her success. Not only Hello Kitty's relative blankness allows for a broad appeal, but also the creativity with which Sanrio has handled the character as well.
That "blankness" has plenty to do with Hello Kitty's lack of a mouth. Some fans have speculated that by not having any facial expression, people of all emotional ranges can feel an affinity with the feline.
Start Trek Hello Kitty.
©JOSEPH SENIOR 2012
The production squeeze, along with the pop culture boom and fashion collaborations — for example, Takashi Murakami X Louis Vuitton, etc. — has led to Hello Kitty teaming up with the likes of Stussy, Swarovski, MAC cosmetics, tokidoki, EVA airlines and Vans sneakers, to name but a few. The 40th anniversary celebrations have also seen numerous collaborations, including a signature collection by U.S. makeup chain Sephora and partnerships with brands such as Mikimoto and Major League Baseball.
Alongside these tie-ups are numerous artistic homages. Italian artist Anna Utopia Giordano used Hello Kitty on her "pop bottles" project.
"(Hello Kitty) is a viral phenomena that can be found everywhere," Giordano says, adding that the feline is as iconic as Disney and Nintendo characters.
Joseph Senior, an art director who pays homage to Hello Kitty with his computer-graphic figurines, says he "appreciates the simplicity of the design, with clean lines and instant recognizability."
"I think the universal love of cats has made Hello Kitty the popular character and global icon she has become," he says.
Whatever the reason for her popularity, Hello Kitty is a branding success story and soft-power tour-de-force.
The Kitty Shop team is so proud to be able to bring you the original Hello Kitty and
other Sanrio's charactor products from Japan for all the fans out there in New Zealand.
HELLO KITTY'S DESIGN EVOLUTION